Those of you who own creative agencies know that growing agencies face a lot of challenges. You may encounter many distractions and pain points as you take on new business. Without a platform like Growth suite, tracking revenue can be a hassle, billing and invoicing can be difficult, and putting your clients first is hard when your workflows are inconsistent.
Additionally, sometimes you want to grow but being data-informed is not so easy as it sounds! Managing different apps and software can be a challenge.
This is where Growth Suite comes to the rescue! This product is designed to support growing agencies and freelancers by bringing together all of these processes under one roof.
Rather than rely on multiple spreadsheets and extra costs, Growth Suite lets you manage clients and sites from one dashboard, create reports, bill clients, charge customers, and resell WordPress hosting.
In this post, I give you 10 Reasons To Choose Flywheel Growth Suite-All In One Platform To Grow Your Agency.
1. Recurring and one-time invoicing made simple with Growth Suite
As a new freelancer, you might be tempted to accommodate clients' individual invoicing and payment needs. As your business grows, you will find it increasingly difficult to manage separate, disjointed billing processes as it will create frustration (at the very least).
Growth Suite allows you to bill your clients for recurring or one-time services (with or without a site attached). This platform supports your entire book of business and guides you in the process of subscription billing. It's easy to apply discounts, add invoice notes, and bill your clients in multiple currencies—all under your own brilliant brand!
2. Client management made simple with Growth Suite
Managing all your active clients becomes harder as your agency grows – Growth Suite's client management tool can solve this problem! Through its client portal, agency-branded reports, integrated Google Analytics, CRM, and emails, you can easily scale your agency when taking on new customers, while looking professional and competent at the same time.
3. Growth Suite turns Client reports into a game.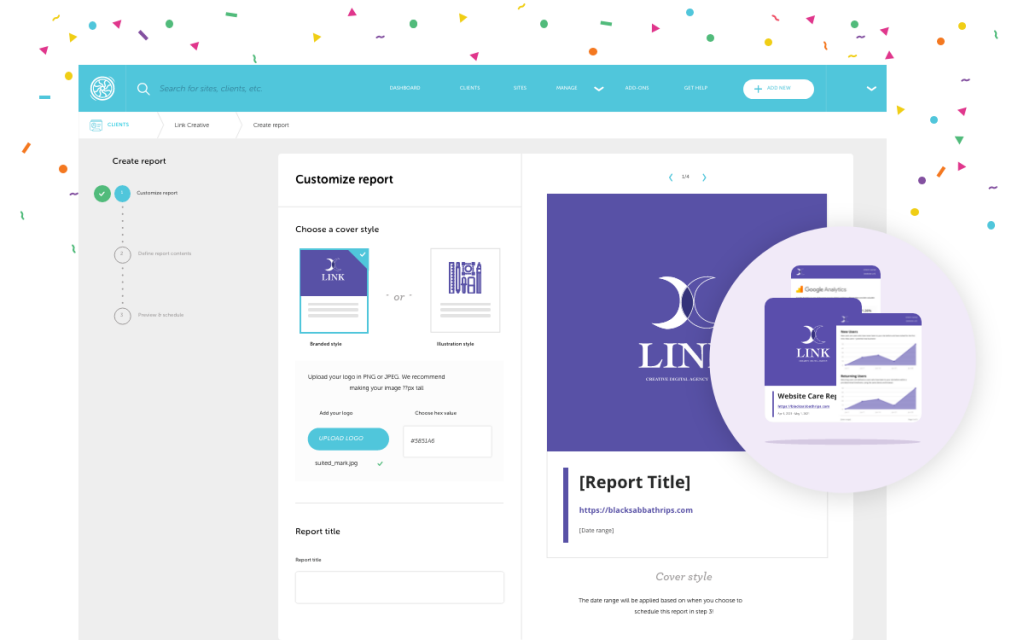 Provide clients with agency-branded reports to demonstrate your value. Reports to clients should no longer be prepared and sent manually. You can easily create and schedule client-branded reports with Growth Suite, which is integrated with Google Analytics, site performance data, and all recent updates you've made to their sites. Thanks to Growth Suite, It has never been easier to prove your value to clients!
4. Simplify your site management with Growth Suite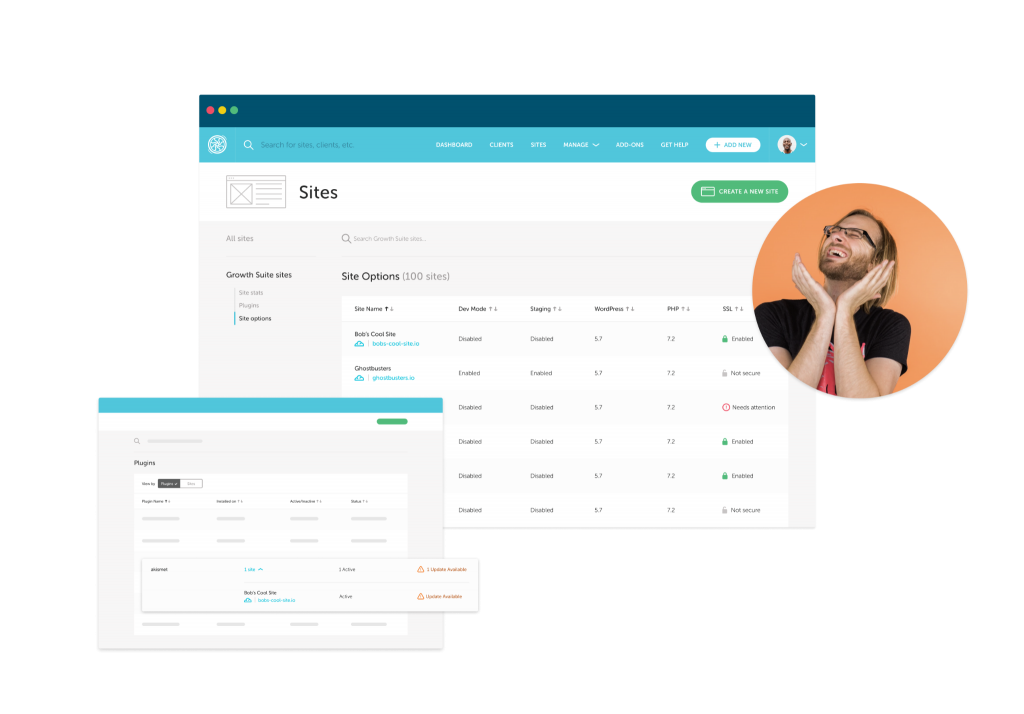 It can be incredibly time-consuming to review and gather information about your sites. In Growth Suite, you get a single place to look at information about the sites that matter most to you, so you spend less time managing them and more time generating revenue!
In addition to SSL status, plugin updates, WordPress and PHP versions, and Flywheel stats, Growth Suite's Bulk Site Management tools provide the most important information about your sites on the Flywheel dashboard. By using this information, you can take action to make sure your sites perform well!
5. All under your own brand thanks to Growth Suite
White labeling temporary domains is another feature of Growth Suite in addition to billing. Keep in mind that all emails and the portal on which your clients log in will be branded with your company logo and colors.
6. Growth Suite dashboard – Cash flow insights at your fingertips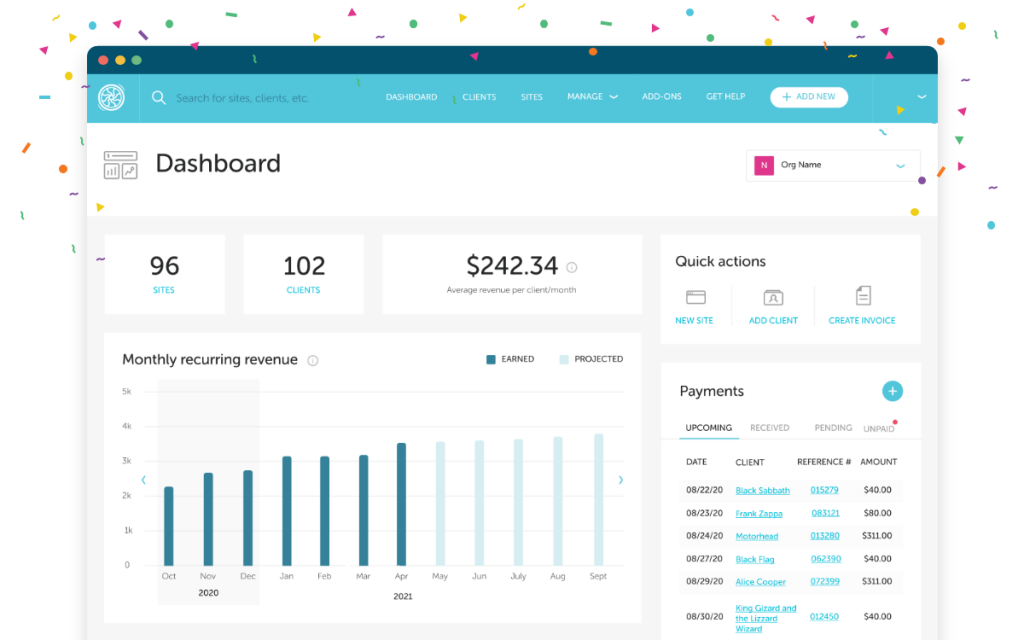 When easy-to-digest data is available at your fingertips, you'll gain the knowledge and confidence you need to grow your agency.
Growth Suite's dashboard is one of the best features. The Growth Dashboards provide you with important revenue information, such as average revenue per client and monthly recurring revenue.
In addition, you can quickly, thanks to Growth Suite, locate clients who have recently paid you, invoices that are due, and scheduled ones. With this tool, you'll be able to check the profits your agency makes each day over a cup of coffee.
7. Resell managed WordPress hosting with Growth Suite
With the Flywheel Growth Suite All in One Platform, It is possible to earn recurring revenue from Flywheel's services like WordPress hosting, Managed Plugin Updates, and more when you include them in your monthly maintenance packages! You can offer the Flywheel services alongside the existing services you're offering.
The Flywheel WordPress server and service are specifically designed for WordPress. Each server is optimized for a particular CMS, so your sites will perform and be secure to the highest degree.
So, you can resell these managed WordPress hosting plans to your clients and make a lot of money doing that.
Read my review of one of the best beginners Webhosting providers
8. Fully integrated with Stripe
Growth Suite allows you to bill your clients securely with Stripe, the number one payment solution. Over half a million companies – from startups to Fortune 500 businesses – use Stripe to manage their business online, accept payments, and send payouts.
If big companies can rely on Stripe to manage their businesses, there is no reason to no doubt them.
9. Client portal
Allows your clients to securely submit payments, edit contact information, and get in touch with you.
Thanks to this platform, you can get paid through the Client Portal! It's here your client(s) can view their invoice details, access WP Admin, contact you for support issues, change their payment methods, and submit payments.
10. Services creation with Growth Suite
Last but definitely not least, Growth Suite helps you get paid for all your hard work. Using their service tiers, you can list out each and every service that you offer (or wish to offer!) while staying organized as you group them into tiers.
Starting with a hosting service is a good idea. Provide the service with a top-level name (e.g. Hosting or Managed Hosting) and make it recurring.
Conclusion
If you're looking to grow your business, Growth Suite is for you. It offers a unique mix of client and site management tools for businesses of any size, as well as robust invoicing and billing software.
With Growth Suite, you can build a sustainable growth model for your agency or freelance business that allows you to embrace new clients with confidence and take your business to the next level.
Disclosure: Some of the links in this article are affiliate links (not all). Any purchase you make using my links will earn me a small commission at no extra cost to you.