Lots of people wonder how to start a blog. In fact, blogging has become extremely important in the last few years. With its humble beginnings as a channel for thoughts, feelings, and experiences during the last decade of the 19th century, the Blog is now a powerful tool to establish a robust online presence and stand out from the competition.
Nowadays you have plenty of reasons to start a blog. Whatever the case, blogging can be a great way to bring in new customers, gain visibility, and improve sales.
In this post, I'll show you how to set up a blog step by step on Hostinger and making money.
I am writing this guide to answer any questions you may have about starting a successful blog in 2021.
Choose your blog's niche.
The niche you choose for your website determines the rest of its future. Writing about this is what you will be doing and – hopefully – making money from.
Blogging about your business goals, products, and services is an excellent way to get the word out about your project. As a result, your blog will attract people who are actually interested in what you write.
As a blogger, you have a wider selection of niches from which to choose. Depending on your primary blog topic, you may pick from travel, technology, or news. You can also write about food, music, and shoes as well.
The good news is that whatever the niche you choose for your blog, You can find a following for practically any topic you are interested in.
If you want to avoid rushing your decision, you should take your time as it is one of the most important steps.
To do this, you should create a blog that discusses something you are passionate about. It is always better to do something you enjoy. Your audience will notice without a doubt that you are passionate about your topic (niche).
Two simple concepts can help you pick a niche that works for you:
Doing Blogging for Money:
Blogs give people the opportunity to earn money online. It is a good thing to do. So, you can select a niche that is profitable.
Doing Blogging for Passion:
Those who have the passion to share their experiences, viewpoints, and practical advice with others have a strong desire to do this. You can also choose this niche if blogging is your passion. Professional bloggers recommend that you choose a topic that you are passionate about so you maintain consistency, work through failures, and eventually succeed.
So, the best thing to do is to choose a niche based on your passion, skills, and experience. In any case, passion + money is the best combination.
Choose the Right Blogging Platform
The next step is to select a blogging platform. You will publish your content with the help of this software or service. Choosing the right blogging platform, however, is crucial. In the following paragraphs, you will find a little more information about each.
Free platform
New bloggers often find free blogging platforms appealing as a way to get started. You will, however, have restrictions and rules when you start a blog on a free platform. Besides having the platform's website in your URL name (yoursite.blogplatformsite.com), you may also receive ads on your blog that may not be in line with your style or niche or that you will not be able to monetize. An ideal platform would be self-hosted.
Self-hosted platform
Blogs that run on self-hosted platforms have their own domain name. Your URL will not contain another site after it. Furthermore, you will be able to choose a Content Management System that meets your needs. There are three most popular ones: WordPress, Joomla, and Drupal. You can build your dream blog with these CMS.
Self-hosted blogs, however, are not free. A web hosting company will charge a few bucks a month for your own domain name and webspace because you are using your own name. This allows you to use your preferred CMS, which is usually open-source and free.
I personally use WordPress. And it's my recommendation for you.
Secure your blog name and web hosting.
In the market, finding a reliable provider can be difficult due to the plethora of options. You need to take into account various factors when choosing a web hosting provider, including the type of server, your expected traffic volume, and many other factors.
Because every website has a different set of needs, one hosting package does not cover everything, so each website requires a different plan. Even though we recommend that you choose a provider who has good uptime, pricing, and support, we still recommend that you choose one who seems reliable.
Numerous top-of-the-line hosting companies provide both domains and hosting services. Hostinger is an excellent example. Especially for new bloggers, Hostinger has proven to be an excellent choice over the past few years. The Hostinger platform appears to be more beginner-friendly compared to other options.
Why Hostinger?
Depending on the type of blogger, website hosting requirements may differ. There are people who prefer user-friendly hosting platforms while there are also people who prefer budget hosting.
Those two factors seem to be perfectly combined with Hostinger. With their premium shared hosting plan that starts at just $0.88 per month, you'll get a free domain name. Therefore, you don't need a lot of money to start blogging.
Hostinger provides beginners with tools such as site builders, script installers, and a user-friendly control panel.
Their customer support is quick and reliable as well, as we can see from the reviews on various websites.
You need two essential components before you can build a website for your blog:
A domain name
Web hosting

How people find your blog depends on your domain name. Web hosting is where your blog is stored.
It's essential to get them right since both of these factors are essential.
Go to Hostinger and choose a WordPress hosting plan. It is one of the best platforms for blogging, so you will be able to get the most from your future blog using this type of web hosting.
All of the WordPress plans include features to help you manage and build your blog. There are hundreds of written and video tutorials as well as a bunch of easy-to-use tools for managing your site.
Whenever you need help with WordPress, you will be able to get it from their WordPress specialists.
All WordPress hosting plans, including Starter, Business, and Pro, include a free domain name. Using this method will save you money that you would inevitably spend elsewhere on domain name registration.
Managed WordPress Hosting plan from Hostinger starts at just $2.15/month. If you purchase Hostinger for 48 months (4 years), you get a cheap and valuable hosting because you get Free Domain, Unlimited Bandwidth, and 100 sites at once.
Install and Set Up WordPress
How To Install WordPress With One Click
Go to your account and scroll down the hPanel until you see the Website category. Select Auto Installer from the menu.
Click on WordPress to select it.
Complete the required fields and click Install.
Your WordPress installation on your hosting has been completed, so it's time to setup.
How To Set Up WordPress
As soon as WordPress is installed, it's ready to use. However, there are some settings that should be adjusted to help improve the search engine ranking of your blog in the future:
Make sure your website is search engine-friendly.
You need to set permalinks
Search Engine Visibility
It is very important for your site to be visible so that search engines can discover and index it.
Go to your WordPress account's main Dashboard. Go to Settings -> Reading in the side menu.
Scroll down to the bottom of the Reading Settings page and uncheck the Search engine visibility box. Now that you have made your changes, save them.
Setting Permalinks
Optimizing your organic traffic growth through appropriate and easy-to-read permalinks is an important ranking factor.
Select Permalinks from the WordPress dashboard's Settings.
Select the Post name option from the Permalinks Settings page. If you do this, it will become your website's default URL.
The title of every new post will now appear in the URL of the page every time you create one.
This will improve the chances of your posts ranking well in search engines, increasing your rankings.
Choose a WordPress Blog Theme
You can customize a theme to suit your needs by providing your own content. In other words, WordPress themes are a collection of template files, stylesheets, and files that help design your blog.
There are thousands of free and paid WordPress themes available, but these are the best ones:
The following steps will help you install a new theme on your WordPress blog:
Start by logging into your WordPress account (admin page).
Go to yourdomainname.com/wp-admin to access your WordPress login page.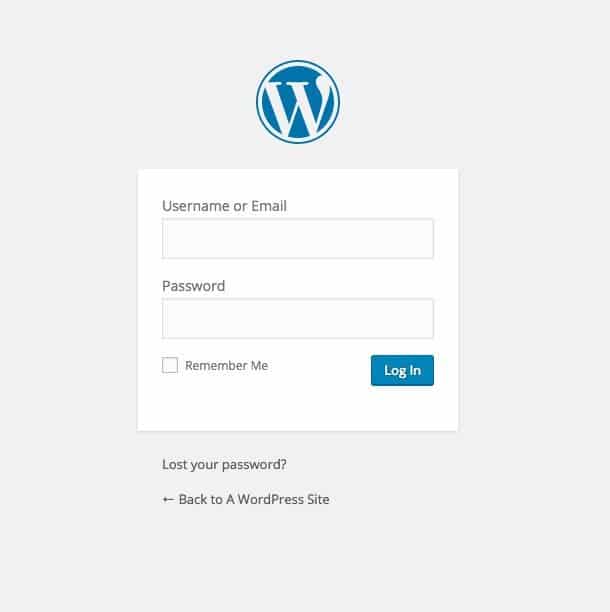 Once you log in to WordPress, your dashboard looks similar to this.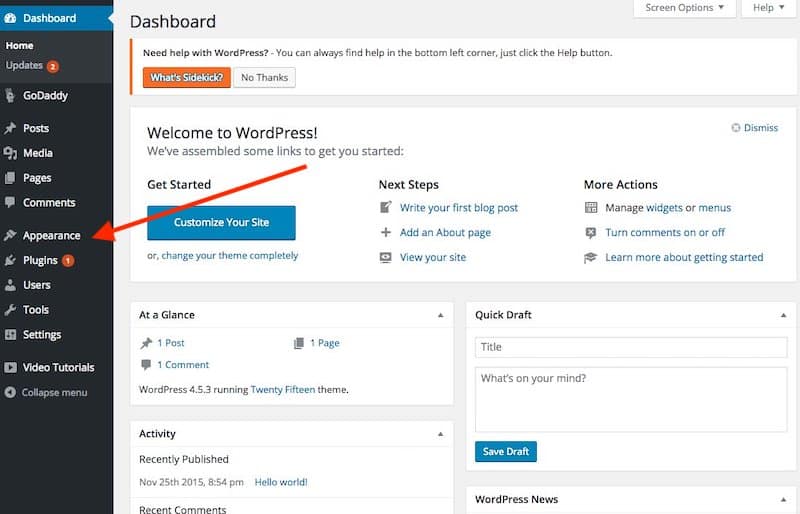 From the sidebar menu, click on "Appearance".
After selecting "Appearance" in the drop-down menu, select "Themes".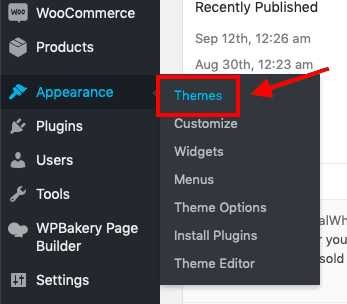 At the top of the page, click the "Add New" button to search for theme options.

There are a lot of different free themes available, as you can see below.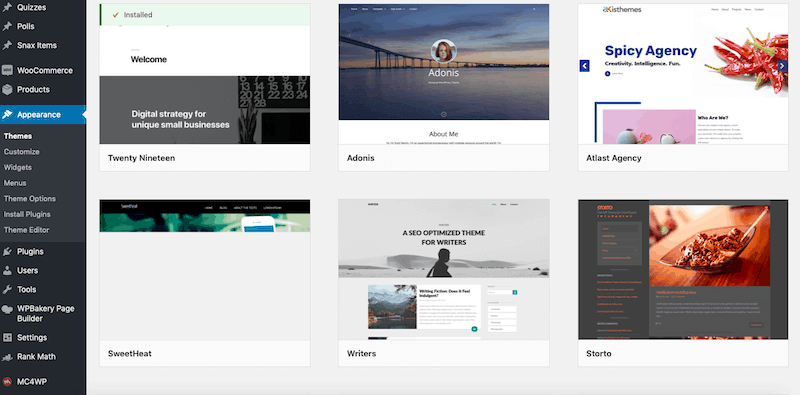 Before selecting a theme for your blog, you can scroll down and preview as many as you want.
Installing a theme allows you to customize its design immediately. Make the required changes to the color schemes and create the relevant pages.
You can add images and text. Additionally, WordPress plugins will enhance the functionality of your site even more.
Install Useful Plugins
On WordPress, whatever your skills in design, development, or any other field, there are some things you inevitably need to secure, accelerate, and even analyze the behavior of your visitors: these are plugins.
The tricky thing is that there are over 57,000+ WordPress plugins that you have to choose from. Making the right choice of plugins become extremely overwhelming for new users.
That's why today, I have selected for you the 10 most powerful and useful plugins every WordPress website owner needs to improve the functionality, aesthetics, and efficiency of his site.
It may come as a surprise to you that I put an extension that analyzes website traffic at the top of this list. But believe me, there is a reason for this.
Additionally, When you take a lot of time to design your website, you expect to receive tons of visitors on your new site, to know where they come from, to understand their behavior on your site in order to convert them into customers for your products.
To make all this possible, you need a powerful tool that allows you to connect your website with Google Analytics. That's where MonsterInsights comes in.
With over 2,000,000+ active installs, MonsterInsights is the most popular Google Analytics plugin for WordPress. With this powerful and useful plugin, you can optimize your website to increase your traffic, subscribers, and revenue.
Thankfully, MonsterInsights has both free and premium versions. But to unlock all the power of this tool, I highly recommend you to buy the premium version.
You can get 50% OFF with my affiliate link.
The best argument I have for choosing Elementor Pro from this list is that my blog is entirely designed with this beautiful and powerful plugin.
So, If I'm full of praise for this plugin, it's because it really deserves it. I'm a fan of it, and I'm not the only one.
With over 5,000,000 active installations, Elementor is one of the most widely used plugins on WordPress.
This visual page generator gives you the ability to create unique designs for your website. With Elementor, you don't have to be a web developer to create the website of your dreams.
Its premium version, Elementor Pro, gives you even more flexibility, customization, and total control over your site. It comes with an absolutely awesome theme builder.
Elementor Pro's theme builder allows me to create a unique design that applies to all my blog posts. See for yourself the design of this blog post you are reading. Isn't it absolutely beautiful?
Enough talk. I'm ordering you to get Elementor Pro if you're on WordPress. Don't come and thank me afterward.
The design of my website made with Elementor Pro pleases me enormously. That's why I'm not going to let it be hacked by competitors or malicious people.
WordPress is currently used by more than 25% of websites, so it has become an easy target for hackers.
Since I am not a security expert, I need a plugin that allows me to easily secure and protect my WordPress website.
Searching on the internet, I found iThemes Security Pro. A plugin designed for beginners to ensure their security while they take care of making their WordPress site profitable.
This plugin offers dozens of protections against WordPress security problems you may not know about.
iThemes Security Pro limits the number of unsuccessful login attempts with WordPress brute-force protection.
It does so much to secure your website that I can spend all day quoting without finishing.
For a secure website, you need iThemes Security Pro. The free version is interesting but when it comes to security, I advise you not to take unnecessary risks.
These days, people are always in a hurry. They don't have enough time. Waiting a few seconds for a site to load frustrates a lot of people. A slow site doesn't make visitors want to stay or return to your site after a bad experience.
For all types of websites, the speed of page loading is therefore very essential. Optimizing images can sometimes help to speed up the loading of a page but nothing beats caching plugins.
For example, the W3 Total Cache plugin can reduce your load times by more than 43% on average.
WP Rocket does even better: according to a test conducted by ThemeIsle.com, it reduced page loading times by 63%. This result can be observed with this powerful plugin, but it is not free. But the results and the positive impact on your site are well worth it, especially if there are online conversions.
WP Rocket is a very powerful caching plugin. It helps you speed up the loading time of your sites by creating cached copies of each dynamically generated page on your site, so your servers have less work to do.
WP Rocket is a high-end tool whose price starts at $49 for a one-year license for a single site. With my link, you get a small discount.
When we finish creating a nice website, we all want to have tons of traffic and preferences without paying a penny.
To do this, your content needs to be optimized in order to be at the top of the results of search engines such as Bing and Google.
When it comes to search engine optimization on pages, the best plugin of all time is called Yoast SEO.
Few plugins can help you improve your SEO and analyze the readability of your content like Yoast SEO does.
The good news is that the free version of Yoast SEO is already almost perfect. It has almost all the features you need to optimize your content, get you to the top of the search results and generate thousands of organic traffic.
You have designed a beautiful website, which loads quickly, is well secured, and receives tons of visits.
Guess what you need now to make this traffic profitable? You need to collect email addresses of course.
The tool you need to accomplish this task is OptinMonster.
On many websites, when you want to leave, a message pops up and offers you to subscribe to the newsletter, offers to download an ebook, or even a special offer on one of their products. OptinMonster does that too.
OptinMonster is the most popular plugin when it comes to optimizing conversion rates.
It allows you to get more email subscribers, and convert visitors from abandoned websites into email subscribers and clients.
In addition to having a powerful targeting feature, OptinMonster is also very esthetic. It comes with pre-designed, high-conversion membership forms that you can easily customize with their drag-and-drop generator.
If you want to make more money from your website traffic, then you need OptinMonster.
It helps you recover sales from abandoned shopping carts, convert visitors to your website and expand your email list for your email marketing campaigns.
Now that you have a plugin that pops up when your visitors try to leave and collects hundreds of emails, you need another super powerful plugin to do your email marketing campaigns without emptying your bank account.
With email marketing platforms such as Getresponse, Sendinblue or InfusionSoft, your invoices grow as your email list grows.
Recommended Post: Getresponse review
But I have a solution to help you avoid these expenses. Let me introduce you to Mailster, the most complete and unlimited email marketing plugin.
For only $59, Mailster allows you to have an unlimited subscriber list, send unlimited emails, track and analyze your campaigns and subscribers with ease.
On top of that, you have an auto-responder that sends automatic welcome messages, replies to your subscribers and sends emails scheduled for the whole year.
To give you more flexibility, Mailster allows you to integrate your other favorite WordPress plugins.
Among all the plugins we've listed so far, I think there's one particular plugin missing, capable of bringing you the data from your Google search console account and even your Google Adsense earnings.
That Plugin is Site Kit, the official Google WordPress plugin designed to help you understand how people find and use your site.
Site Kit includes powerful features that make the use of these Google products transparent and flexible. It supports Search Console, Analytics, Adsense, Tag Manager and Optimize.
Of all the precautions you can take to protect your website, backup is probably the most important.
With a backup plugin, you will be able to back up, clone, or restore your site without any problems.
You can also schedule automatic backups to make things easier or you can simply do it manually.
The backup plugin I recommend is UpdraftPlus. It is a popular option for site backup and restoration. It is fast, powerful, easy to use, and has over 3 million active users.
10. Really Simple SSL
Last but not definitely not least, we have Really Simple SSL;
It is a plugin whose importance is not to be demonstrated anymore.
It's used on over 5 million WordPress websites.
It is the one that informs Google and your visitors that your site is reliable and deserves to be ranked or visited.
The Really Simple SSL protocol automatically detects your settings and configures your website to run on HTTPS.
The entire site will switch to SSL.
It is completely free. I use it on all my websites and those of my customers.
Let's summarize this list
Establish a content strategy.
Maintaining an interesting and relevant blog is possible by following a content strategy. Here's how to create one:
Decide on an achievable and specific goal – Decide on a specific and measurable objective. Getting one thousand readers by the end of the month would be a good example of this.
Identify your target audience – If you know who your target audience is, you can determine what type of blog posts to write and how to write them.
Make keyword research – Use tools such as Answer the Public and Google Trends to determine your target audience's interests. Choose the terms that have the greatest potential for becoming blog posts.
Make sure you have a blogging editorial calendar. This will help you plan out when you will write and publish blog posts. It is common practice for some bloggers to prepare many drafts in advance and post them one by one throughout the month
Get to know SEO
In a nutshell, SEO is an approach used to boost a web page's search engine ranking. This will increase exposure and organic traffic to the website.
Using some SEO tools can also help you optimize your content to rank well in search engines.
Create your email list
An email list is a collection of email addresses submitted by users. Bloggers use these for marketing purposes, such as keeping readers informed about new posts.
Email marketing software is needed to create one. Visitors will be able to enter their names and email addresses in an opt-in form on your website. Additionally, it can automatically deliver emails and personalize messages.
One of the most famous expressions in the world of digital marketing is "money is on the list". Your email list is the key to getting that money. You need the best tools to collect these emails. Here are my top recommendations for an email marketing campaign that works.
The best way to monetize your blog
Let's move on to talking about how blogging can earn you money now that you know more about it. You can monetize your blog in several ways:
Ad displays – To use this tactic, you need to sign up with an advertising network, such as Google AdSense, which will bring you brands that want to advertise on your website.
Affiliate marketing – This method involves becoming an affiliate of an affiliate program and promoting products on your blog. Every time a reader clicks on the affiliate link you provide, you'll earn a commission.
Sponsored Content – Bloggers who are popular often monetize their blogs with sponsored content. Companies pay bloggers to feature their products and services, usually as a review or recommendation.
Online courses – if you have a passion for teaching, try to monetize your blog with video courses on subjects that your readers might be curious about. Additionally, it allows you to establish your expertise in the field.
eBooks – This is a method of repurposing and combining existing content into one in-depth resource. As an alternative to selling the eBook on your blog, you can also self-publish with Amazon KDP to gain more exposure.
Coaching services – Coaching services usually involve mentoring sessions and workshops conducted virtually. They are similar to online courses.
Membership plans – Create a private community for your readers where they can access exclusive content and get to know you better. Patreon is the platform to use for this.
Final Words
If you're new to blogging, you may find the process a bit challenging. However, don't let this discourage you. The most important thing is that you start blogging and writing. When you follow the system consistently, success will come to you faster than you imagined. Hopefully, my step-by-step guide will help you create a professional-looking blog.

Please feel free to ask me any questions you may have regarding WordPress blogging in the following comment section. I'd be happy to help you.