Did you ever ask yourself where the visitors of your website come from? How are you finding out the answers to this question? Are you using Google Analytics? The truth is that there are a variety of different channels through which a user can visit your website.
It's so important to track your visitors and see where they come from. By doing this, you can determine the sources of traffic for specific web pages, marketing campaigns, and measure how people find your website.
In this post, you will learn how to track website traffic using Google Analytics.

Note that by tracking the traffic to your website, you can gain better insight into your visitors and improve your marketing strategy. In addition, you can Prioritize leading source channels, identify the least performing sources, and create fresh and up-to-date content.
How to Check Your Traffic Sources in WordPress
Many WordPress users find it overwhelming to use Google Analytics because of the amount of data to analyze. The reason for this is that setting it up on your WordPress site requires coding.
For example, if you want the right report and data for making decisions, you'll have to be an Analytics expert.
The easiest way to view your WordPress traffic sources is through MonsterInsights.
This plugin makes using Google Analytics very easy and means you don't need a developer or someone with analytics know-how to install it.
This plugin helps you add Google Analytics to your website and presents reports on your WordPress dashboard.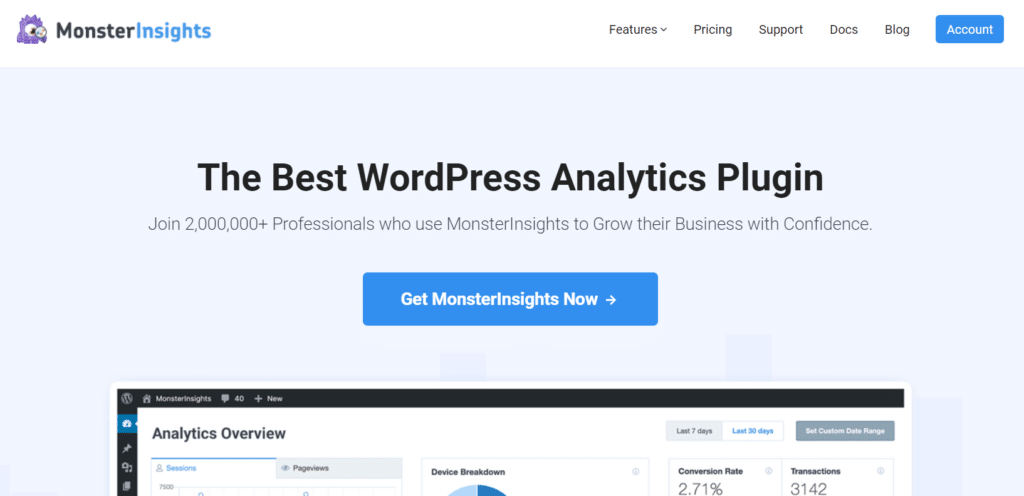 After you have installed MonsterInsights, you will be able to track the source of your visitors' traffic. Now let's take a look at each report that you can use for monitoring website traffic.
Overview Report
To begin, navigate to Insights > Reports > Overview. On this page, you can view the overall performance of your website.
As you scroll down, you will find the Device Breakdown report that shows which devices your website visitors are using to access your site.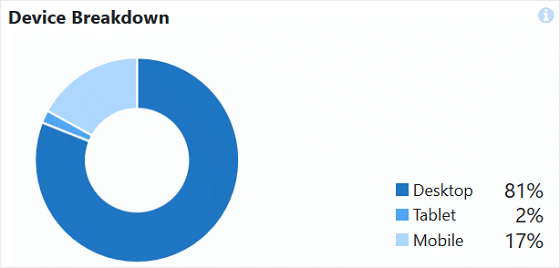 The Overview report includes a list of the ten most popular countries that your users hail from. Through this report, you can create campaigns, messages, and content that are tailored to each region.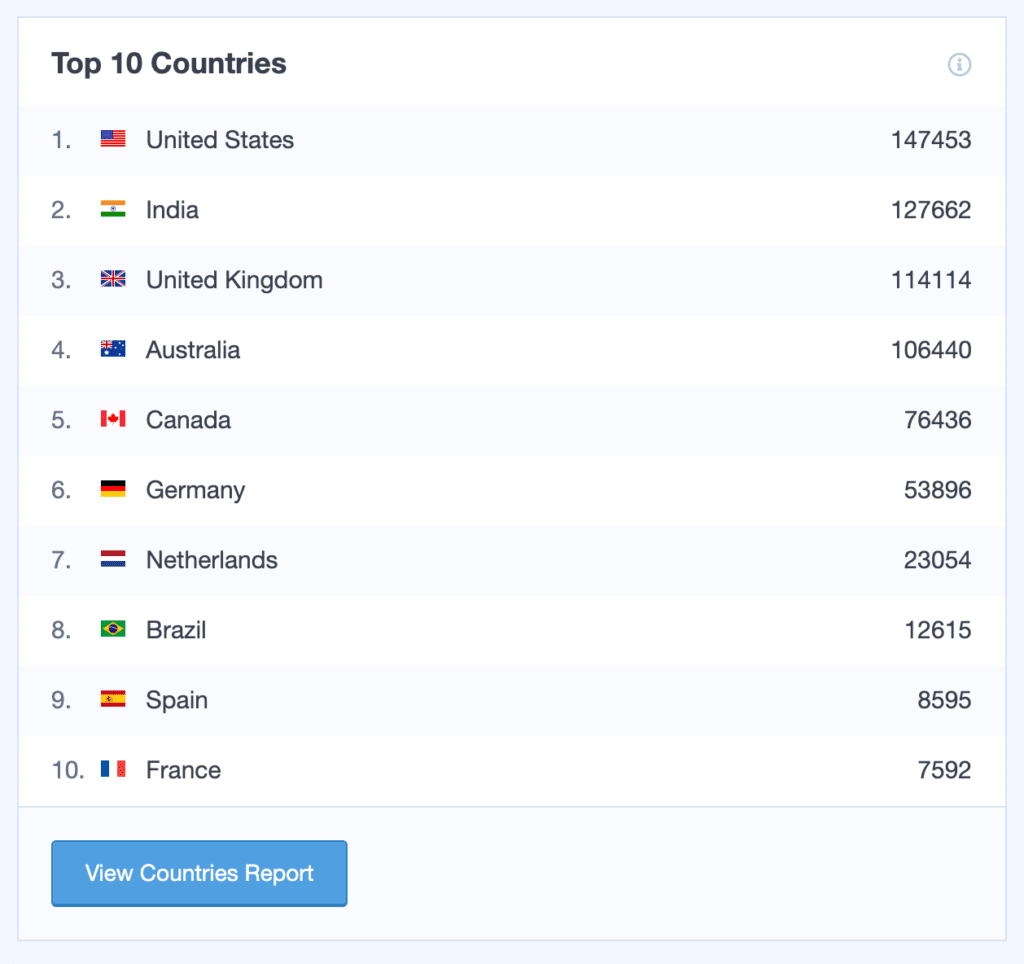 Below the table of countries, you will find a list of the Top 10 Referrals. The information shown here identifies the websites that send the most traffic to your website. You may form partnerships with these sites in order to increase your traffic.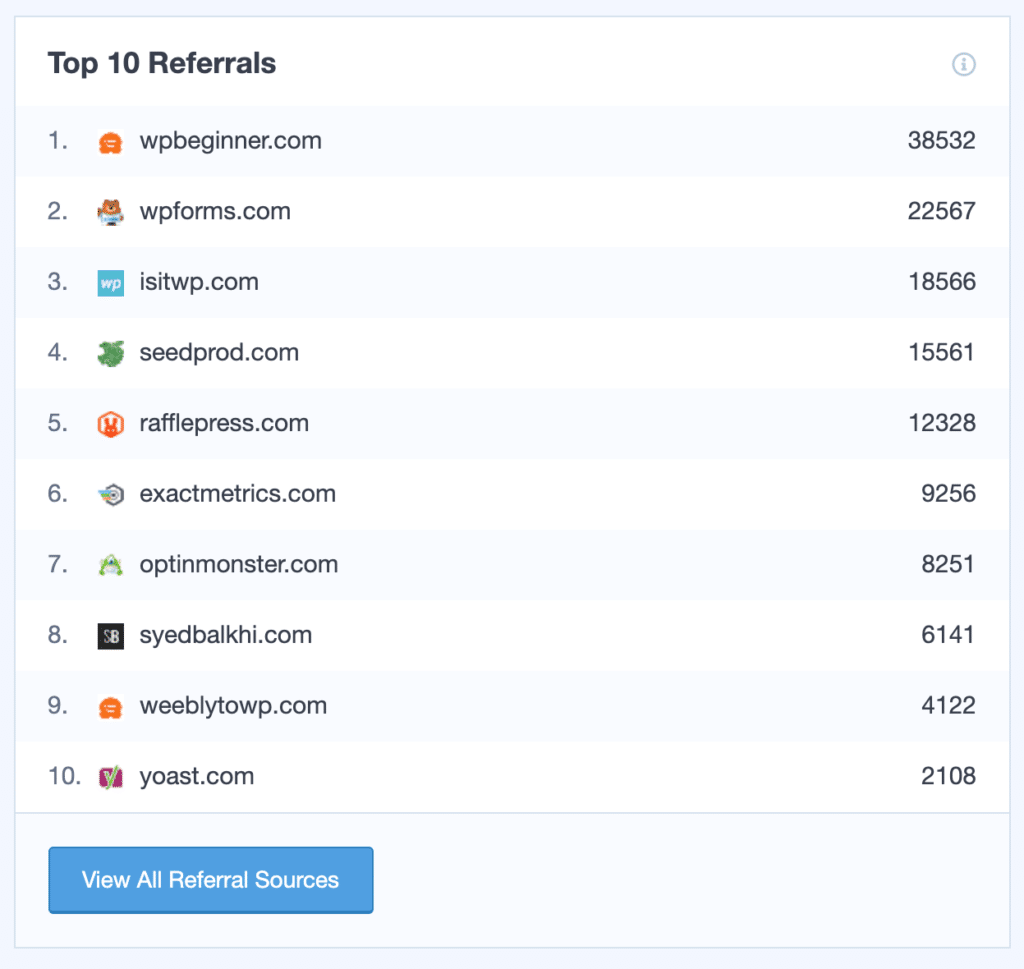 Search Console Report
Assuming your site receives a large amount of organic traffic, you should do some research into the keywords your site ranks for. For this purpose, MonsterInsights provides a Search Console Report.
This report presents the top 50 Google search terms for your website as well as clicks, impressions, CTR (click-through-rate), and average position.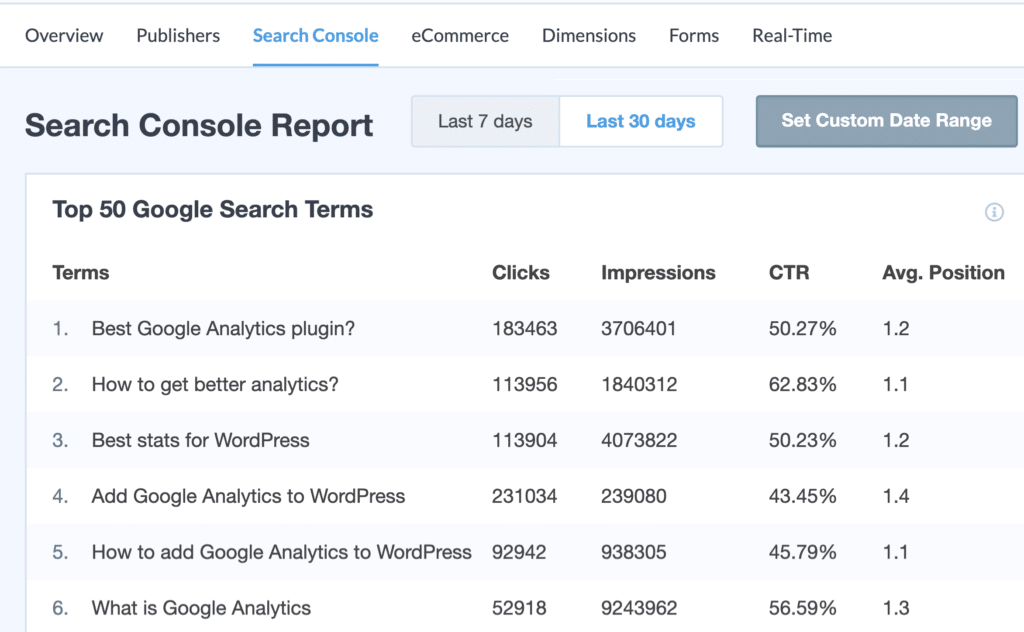 Because these are high-traffic keywords, you can perform a keyword search to find similar search terms to optimize on your site. It is even possible to use them to find new content ideas around these keywords to improve organic traffic.
eCommerce Report
Do you run an eCommerce store and would like to know what your most converting traffic is coming from? If yes, then you can benefit from MonsterInsights' eCommerce report.
Using this plugin, you can view the Top Conversion Sources. It is possible to see which websites are sending traffic to your website that converts. Considering the fact that people visiting these websites are likely to make purchases from your business, you can offer exclusive discounts and deals to increase your revenue.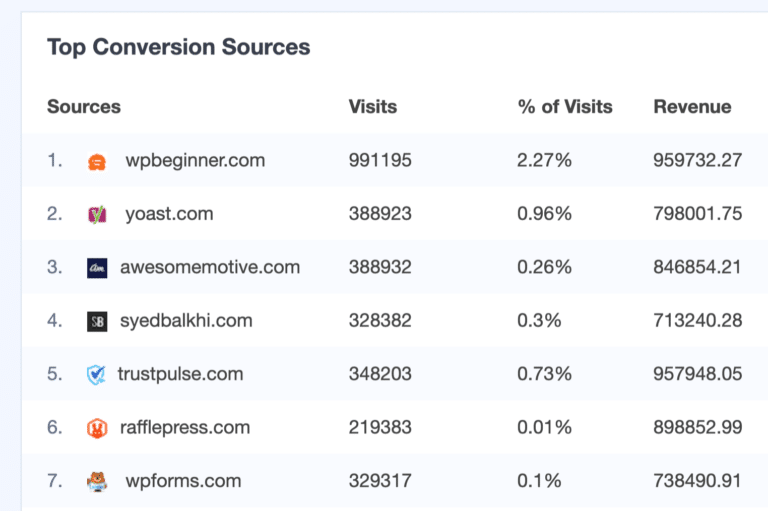 Real-Time Report
The real-time report is the final report you can view for traffic statistics. In real time, it shows you where your visitors are coming from. On your WordPress site, you can view traffic from referral sources, countries, and cities.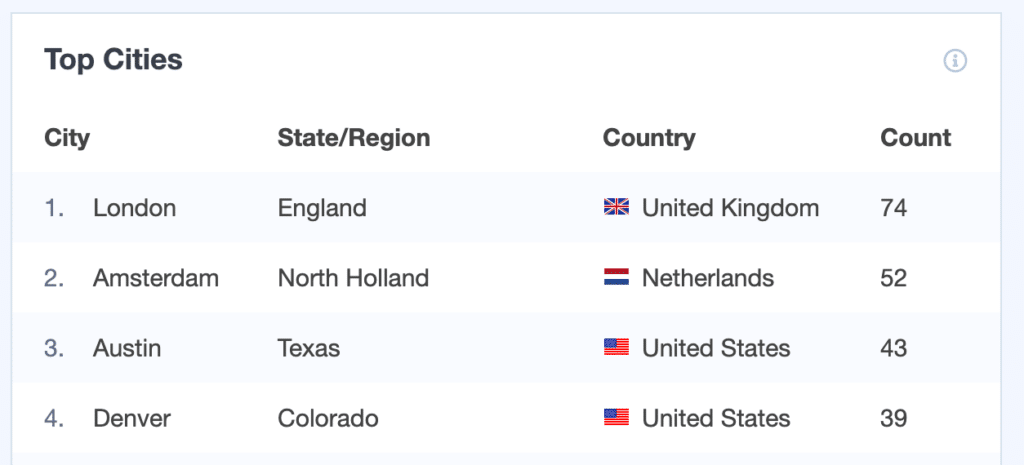 You can use this report to check traffic to your website if you have just launched a new product or marketing campaign and would like to see from where your visitors are coming.
Now that we understand that, let's move on to finding traffic sources within Google Analytics.
How to Track Website Traffic in Google Analytics
MonsterInsights offers user-friendly reports directly in your dashboard, eliminating the need to leave your site. What if you wish to identify the sources of traffic in your Google Analytics account?
To track the sources of website traffic, you can use many different reports. In spite of that, it can be difficult to find your way around.
In order to locate the relevant data, you can log in to your Google Analytics account and then go to Acquisition » All Traffic » Channels.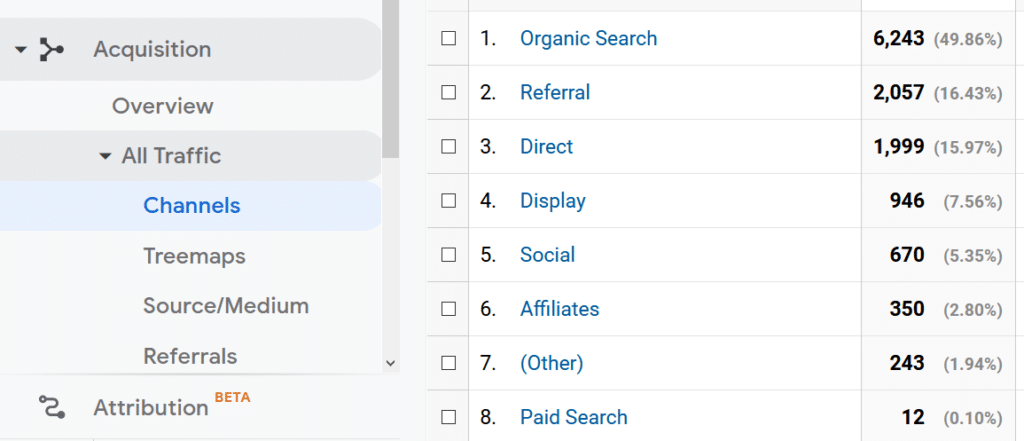 By viewing this Google Analytics traffic report, you will be able to determine which channels generate the majority of traffic to your website. For example, you can see that Organic Search has the most visitors. These are the individuals who are referred by search engines.
If you require additional details, you can access the Source/Medium report under All Traffic. By doing so, you will be able to narrow down the source and channel of your traffic.
In this case, the analytics report will indicate which search engine generated the most traffic (Google).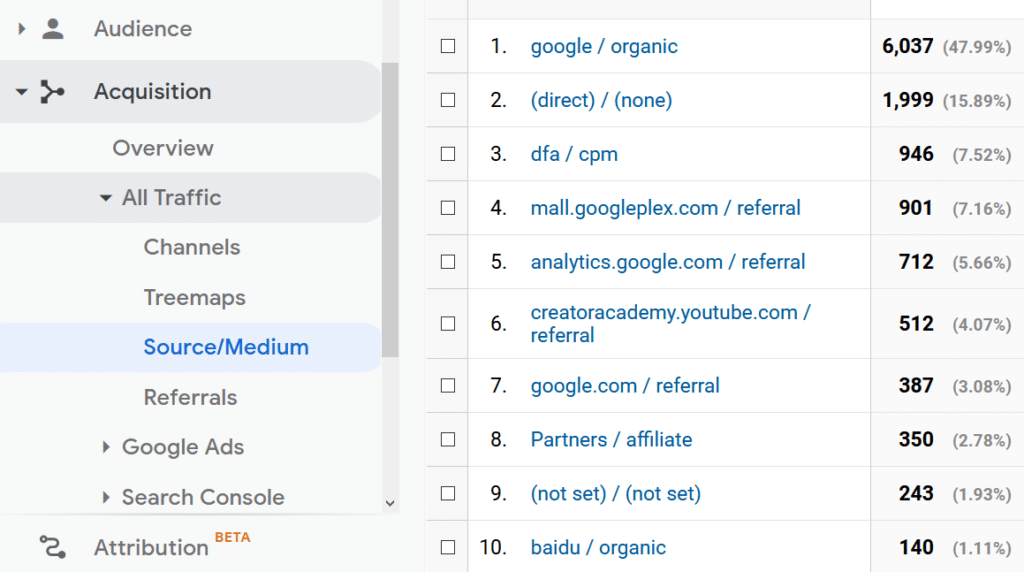 Knowing how to see where traffic comes from for your overall website, what if you want to track traffic for specific pages within your website?
Google Analytics Traffic Sources for a Specific Page
Google Analytics makes it very easy to identify the traffic sources of a specific page.
Start by logging into your Google Analytics account and navigating to Behavior » Site Content. In this section, you will have the option to determine whether to view the traffic sources for all of your website's pages, landing pages, or exit pages.
The example below shows how to view the traffic sources of the landing pages of your site, which may be the first pages visitors reach when they visit your site.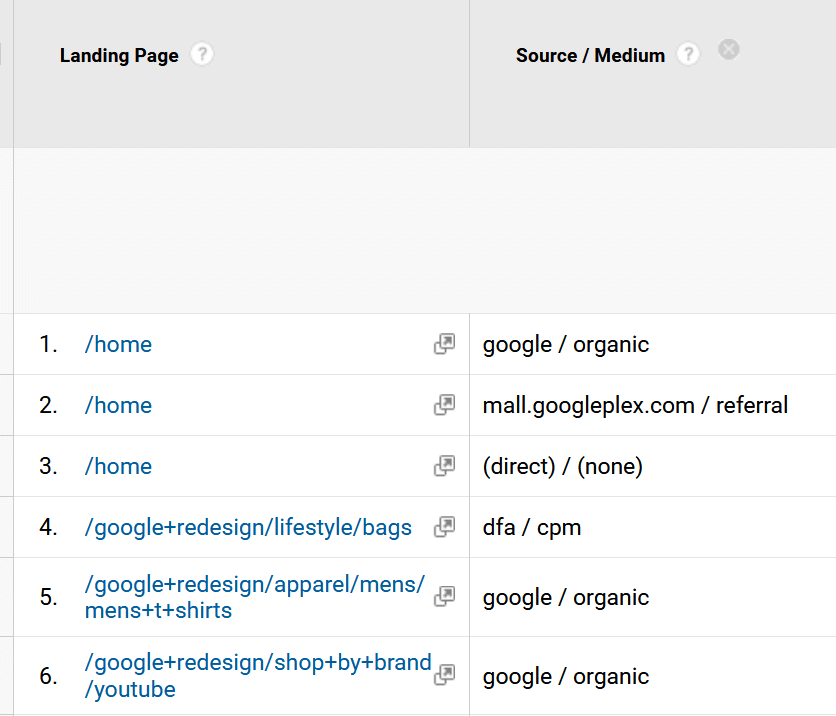 Next, select Secondary Dimension and enter Source/Medium. This will usually be under Acquisition.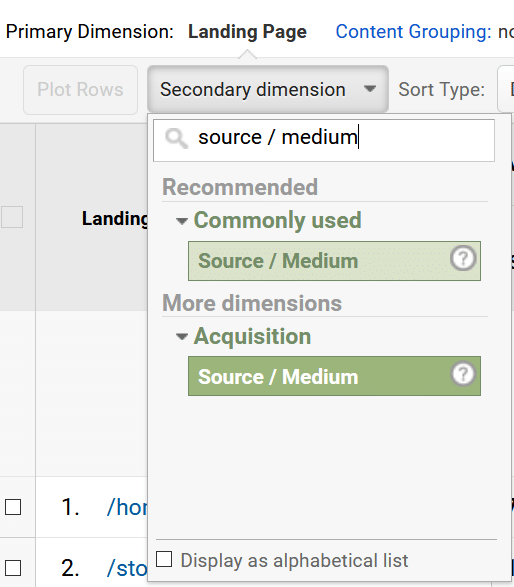 Here, you can see the landing pages of your website, along with the source of traffic, where visitors came from before clicking on your site, and the medium, which is how visitors got to your site.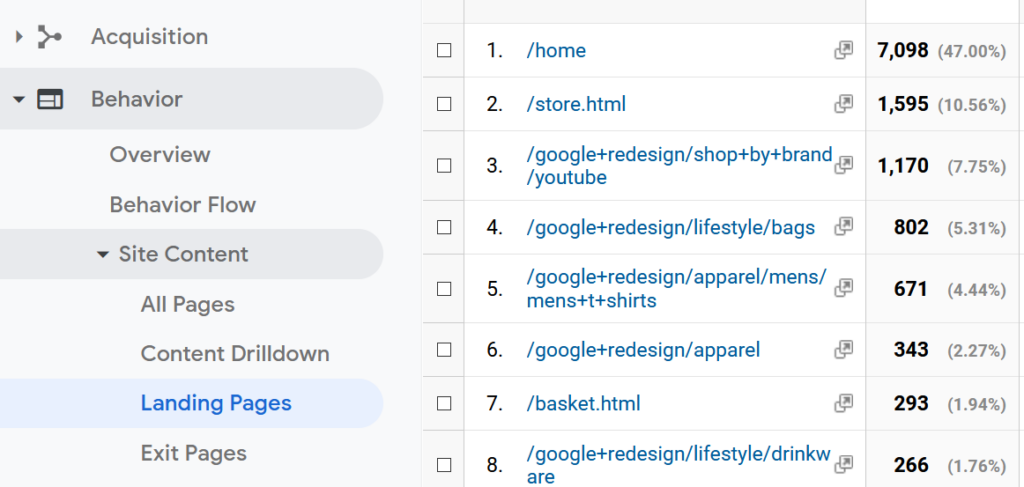 Now that you know how to use Google Analytics, you will be able to identify which sources of traffic to your website.
This is it! I hope you enjoyed it!