How does Discord make money?
I also asked myself this question several times before deciding to make this article and tell you what I discovered about it.
I conducted the survey to give you a precise answer to this question. If you are interested in the Discord Business Model, don't worry, you will find out everything in the following lines.
Discord is a voice, video, and text communication platform used by over a hundred million monthly users. Forbes thinks Discord Is One of Tech's Hottest Startups,
It's available in 27 languages and allows people to hang out and talk with their close ones. Discord also counts 13.5 Million Active servers per week and 4 Billion server conversation minutes daily.
But what exactly Discord is?
What is Discord?
To understand what really Discord is, let do some history
Discord was created to solve a fundamental problem. Its founders Jason Citron and Stan Vishnevskiy wanted to find a simple and effective way to communicate with friends around the world while playing online games at the same time.
Since their childhood, the founders of Discord have been passionate about video games, the friendships and the bonds that form between players while playing a video game.
But at that time, the technology was not as developed as it is now, online gaming platforms were slow, not very secure, less reliable and above all very complex.
Jason and Stan wanted to provide better service that encourages players to communicate without worrying about the distance between them.
This is to help them create unforgettable memories and a feeling of being together when sharing the game.
The concept of Discord comes from Jason Citron, one of its co-founders. He had some experience in the world of video games. He previously founded OpenFeint, a gaming platform for mobile games which he sold to GREE in 2011 for US $ 104 million.
This sum, Jason will use in 2012 to found Hammer & Chisel, a game development studio.
To develop Discord, Jason Citron's new venture, Hammer & Chisel secured additional funding from YouWeb's 9+ incubator, which had also funded the start-up of Hammer & Chisel, and from Benchmark Capital and Tencent.
Subsequently, Discord raised other additional funds. $ 20 million in January 2016 and $ 150 million in 2018.
In 2020, Discord raises additional $100 million and plans to move beyond gaming.
With all that money, Stan and Jason started bringing Discord to life.
Since its inception, Discord has won over and conquered users around the world.
Today, Discord is used all over the world. All in all, Discord has attracted over 100 million monthly active users. On the platform, people talk for more than 4 hours a day.
Discord now allows its users from all over the world to talk, have a good time, and build lasting relationships with its communities and friends.
How Does Discord Work?
On the home page of its website, Discord claims to be "Your Place to Talk"
According to Discord, its platform is for everyone.
It is rightly aimed at all social strata and all sectors of activity.
Whether you're in a school club, playgroup, or a handful of friends who want to hang out together, Discord makes it effortless for you to talk every day and hang out more frequently.
To keep its promises, the engineers at Discord have done a titanic job to facilitate and make the user experience simple and intuitive.
So, to enjoy Discord, you need to download the app. It's available on all your devices – on your PC, Mac or phone.
Let's do this in some steps.
Getting Started
Creating an account on discord is easy. All you need to provide is your email address and name. Discord allows its users to take pseudonyms if they want to protect their identity.
Creating your Discord server
Once the app is installed, the user needs to create a discord server in order to enjoy the full experience.
The Discord server is only accessible by invitation. This is where you can talk and hang out with your friends.
You can personalize your Discord server with separate text channels for anything you love to talk about.
Talking, and Hang out
On the Discord server, you can have voice or video chats with your friends
Discord's video technology lets you share your screen directly with others.
This allows you to show off your prowess in playing a video game, doing a live tutorial, etc.
Learn more in this following video
Now that you know how Discord works, Let see if some one else is doing better than Discord.
Discord Competitors
As you can guess, Discord isn't the only platform for online gaming, let alone video calling.
Long before its creation in 2015, there were already online gaming and video calling platforms.
There are among the serious competitors, Skype and TeamSpeak
Discord vs TeamSpeak vs Skype
With its completely free services, Discord has become in just 5 years a serious competitor for Skype and TeamSpeak.
These traditional chat apps are not free. their platform is heavy, which implies the risk of DDOS attacks. Worse yet, they are not dedicated to gamers.
Discord, on the other hand, is free, can be used on a browser, is lightweight, is more secure, and comes with all the features a gamer needs. Its flexibility allows players to hold a voice conversation while playing.
How Does Discord Make Money?
Finally, we're exactly where you're waiting for me. How does Discord make money? It's time to answer this question.
As you know, the Discord app is completely free.
It is also known to all that Discord is against advertising and the sale of user personal data.
Until recently, this company relied on fundraising to finance its operations.
But the developers have found ways to monetize it.
They moved the company to a semi-freemium business model. Now, Discord provides more and better features to those who pay them.
They resorted to paid customization options like emoji or stickers with the Discord Nitro paid plan.
Discord also makes money selling company merchandise.
Discord Nitro
With its paid Nitro plan, Discord offers an enhanced experience to its users.
Discord Nitro can enhance emoji, enjoy larger file downloads, use an animated avatar and custom tag on their personal profile, and get 2 server boosts and 30% off additional boosts.
Discord charges its Nitro monthly plan at $ 9.99 and its annual plan at $ 99.99.
Since the company doesn't charge you any pennies for its basic functions, it only requires its users to "support the app" by purchasing the monthly or annual subscription plan.
Discord Merch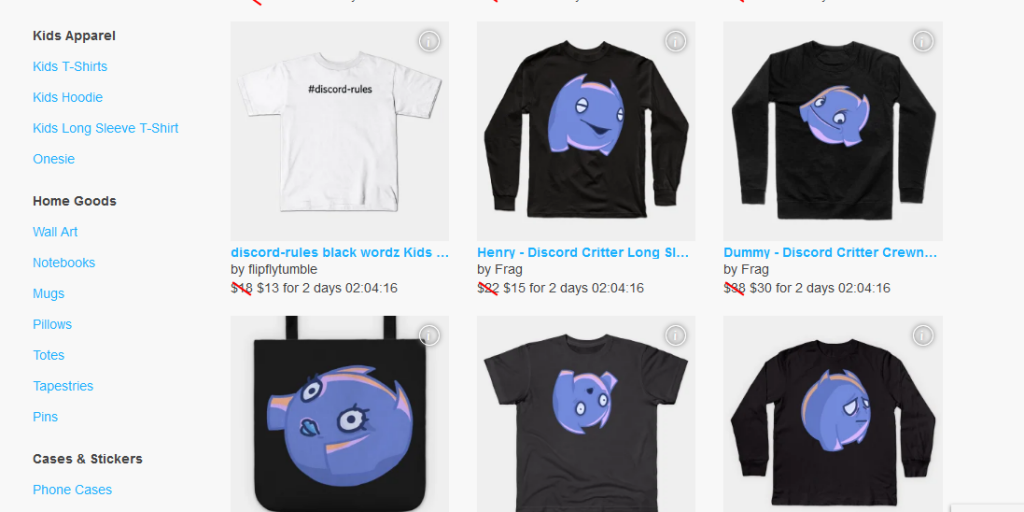 The other part of Discord's income comes from sales of merchandise consisting primarily of t-shirts, hoodies, caps, and sweaters that the company sells to its fans.
It was difficult for me to find the official Discord store. I did not find a direct link on their website.
The keyword "Discord merch" is very popular. This justifies the presence of a lot of online stores that sell products labeled Discord on the Internet
Final words.
Discord is a very interesting VoIP, instant messaging and digital distribution platform.
The good news is, she has decided to be completely free and to stay that way forever.
To finance its activities, it has opted for fundraising, contributions from users who agree to choose their Discord Nitro formula, and finally, sales of Discord merch
Ok, this is what I could say about "how does discord make money". If you think I left out a few things, say so in the comment just below.
Thanks for reading to the end